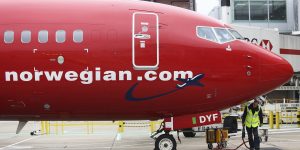 Norwegian Air has just announced a new route that is sure to shake things up across the Atlantic: new service from Seattle to London Heathrow for $199 one-way. The airline will offer four flights a week aboard a Boeing Dreamliner 787-9 aircraft, which can carry up to 35 first class passengers and up to 309 economy passengers.
"London is somewhat of the crown jewel in our ever-growing global route network, and a lot of our growth is focused on London and the United Kingdom," explains Norwegian Airlines spokesman Anders Lindström, hinting that the company may be pursuing more U.S.-London routes in the very near future.
He goes on to say, "With today's route announcement, we surpass all the American airlines in terms of nonstop routes from the U.S. to London, yet we still see the demand for many, many more flights to London, as well of course to many other cities across Europe."
In addition, Norwegian Chief Commercial Officer Thomas Ramdahl notes, "We are excited to offer more West Coast routes for Americans who are looking for inexpensive access to London, with connections to several destinations across Europe."
The airline can now boast 48 transatlantic flights from 13 US cities. Norwegian is actually the sixth-largest low-cost airline in the world; transporting 30 million passengers in 2016, alone. The company currently operates a fleet of 130 jets with an order for 200 737s and 22 Boeing Dreamliners. The discount airline already offers services to London Gatwick from seven US airports: Oakland, Boston, Las Vegas, Orlando, Fort Lauderdale, New York JFK, and Los Angeles. But Norwegian also offers non-stop service from the US to 11 destinations in Europe, too. This includes: Belfast, [Northern] Ireland; Cork, Ireland; Dublin, Ireland; Shannon, Ireland; Edinburgh, Scotland; Paris; Charles de Gaulle; Copenhagen; Bergen; Oslo: and Stockholm.
Travel industry analyst Steve Danishek remarks that increased competition from discount passenger airliners could lead to yet lower prices in the Puget Sound, which is always great for business travelers.
He comments, "Norwegian is more of the ultra-low fare mold. Virgin and British Airways are mainline. Virgin and British may lose some itinerant business passengers to Norwegian. If they feel migration is affecting market share, we may benefit with lower business class fares."